<!!! this page and all associated items © 2002, Kai Harada !!>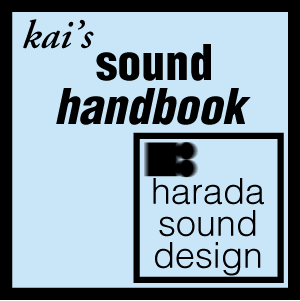 Welcome!

HI, MY NAME IS...
Welcome to Kai's new and improved Sound Handbook. I'm Kai, and I wrote most of the dreck on this site. This handbook has been on-line since 1995, and hopefully this improved version will help even more people than the first edition. I'm still finishing some sections (those are the non-links below), but I hope to have those finished relatively soon. Enjoy!
Well, enough niceties; on to business!
---
Contents

---
INTRODUCTION (WHY DID I BOTHER?)

SOUND DESIGN FAQ (OH, BOTHER)

INTRODUCTION TO SOUND (WHY ARE YOU BOTHERING?)

BASIC SOUND PRINCIPLES (WAVES AND PHYSICS!)

BASIC SOUND PRINCIPLES II (ACOUSTICS AND HEARING!)

BASIC ELECTRICITY (!!ZAP!!)

SOUND GLOSSARY (NOT QUITE FINISHED YET)

INPUT DEVICES (AND HOW TO USE THEM)

MIXING DESKS (ALL THOSE DAMNED KNOBS)

PROCESSING DEVICES (AND HOW TO USE THEM)

LOUDSPEAKERS (AND WHERE TO PUT THEM) - NOT FINISHED

RF MICS (AND ARTS & CRAFTS)

SOUND REINFORCEMENT SIMPLIFIED BASICS

SOUND REINFORCEMENT II OPTIMIZATION

SUGGESTED READING / BIBLIOGRAPHY

FREQUENTLY E-MAILED QUESTIONS - UNFINISHED
---
Return to the harada-sound.com main page.
Comments, Questions, and Additions should be addressed via e-mail to Kai Harada. Not responsible for typographical errors.
http://www.harada-sound.com/sound/handbook/index.html - © 1999 - 2012, Kai Harada. 25.10.2012